In the words of Douglas Covington, Ph.D., Past-President, Radford University, Virginia, "Whether or not they realize it, artists through the ages will owe much to Gillespie. She was among those who transformed the art world, opening doors for women artists. She forged her own styles, expressing a vision to which people responded, visually and viscerally. She pioneered many collaborative efforts. And through it all, she has consistently been a beacon of the best of humanity, both as an individual and as a person who will leave a valuable artistic legacy."

Gillespie has been a fixture in the art world since the 1950s. She attended the Maryland Institute of Art in Baltimore and studied at New York's Art Students' League. She was known for her large, colorful metallic sculptures, such as Colorfall, installed in Wilmington, Delaware's Thalian Hall Center for the Performing Arts. Her works have been exhibited in Rockefeller Center, Walt Disney World, and in many homes and museums around the world. She told one interviewer that as a child, she was inspired by the bright lights of a Christmas tree.

In 1998, she was honored with a book about career published by Radford University in Virginia. She was often involved with monumental instillations the last of which was for Meredith Publishing Corp. in Des Moines, where she suspended 300 of her famous explosions of color made from cut aluminum stripes coated in enamel. The four story atrium provides for the pieces to move slightly as well. She was just as happy creating a small table top sculpture or a wall mounted piece.

Gillespie was a 2001 Women's Caucus Art Lifetime Award Winner. This award recognizes the contributions made by women who have distinguished themselves by their activism and commitment to the women's movement and the arts. Dorothy Gillespie passed away on September 30, 2012. She was 92 years old and most recently lived in Coral Springs, Florida. For years, she divided her time between her home in Orlando and studio in Manhattan.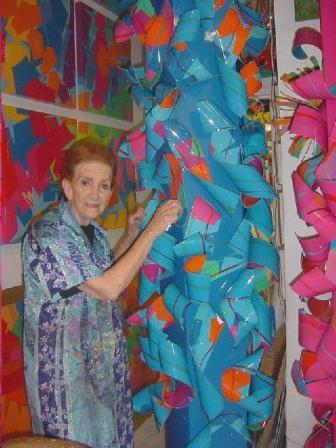 Dorothy Gillespie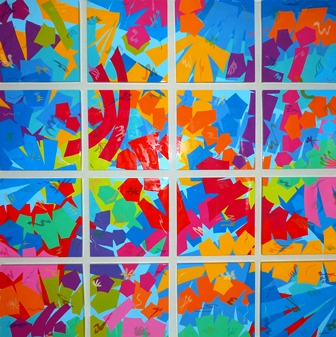 "Autumn Sky Writing" by Dorothy Gillespie
enamel over aluminum, 106" x 106" x 2", 1999