Robert Vickrey became one of America's most notable "Magic Realist" artists and rose to prominence as a master of the egg tempera medium in the mid-century. Born in Manhattan, Vickrey spent most of his early career in the city after getting a BFA in 1950 from the Yale School of Fine Arts.

"I graduated in 1950 when Yale's art school jumped from worshipping Botticelli to bowing down to the Box and Cube - I was lucky to escape to New York that year!"

Strongly influenced by his teachers Reginald Marsh and Kenneth Hays Miller at the Art Students League, Vickrey depicted the lost innocence of urban youth making chalk graffiti marks on Manhattan sidewalks, eerie street signs, manhole covers, and pavement markings indicating a 'No Exit' sense of a Camus or Sartre landscape, nuns in pristine habits lost in post-Hiroshima labyrinths, and a endless stream of adolescents caught in a web of luminous halos and sinister shadows projected from the distorted spokes of bicycle wheels.

The ARTnews recognized his early genius stating in 1951: "Vickrey is an exceptional technician" and the New York Times also noted his arrival on the scene the same year: "Robert Vickrey lets a meticulous technique and a realistic style serve a fantastic imagination. Full of obliquely expressed sympathy for the human situation…in vivid and original ways, they symbolize loneliness or hostility or simply the pains of growing up."

Generally accepted as the single artist who has done the most for the egg tempera medium in an era of abstraction - including writing two books on the subject many years ago, Vickrey has 60 of his portraits (80 total used on the cover of TIME from 1957 to 1968) in the permanent collection of the Smithsonian Institute's National Portrait Gallery.

Vickrey was represented by a major New York gallery for fifty years. We have shown his work since 1970 and have represented him since 1981, displaying solo shows annually until his death.

Nearly 25 museums have borrowed Vickrey shows from our gallery as well. He has had more than 30 other museum shows and over 40 gallery shows.

The winner of numerous awards for classical painting, he was honored by the American Watercolor Society and appeared in 25 exhibits at the National Academy of Design where he was an elected academician. Between his early discovery in 1952 and 1963 his paintings were exhibited nine times at the Whitney Museum's annual show - the premiere showcase for important new American art.

Over 80 museum collections include his works in their permanent collections including the Metropolitan Museum of Art, Whitney Museum, Brooklyn Museum, Smithsonian American Art Museum, and the Corcoran Gallery.

A book was published in 2002, by Ursuline College in Pepper Pike, OH to coincide with a retrospective at the Wasmer Gallery at the college. The book, written by Donald Miller and Robert Vickrey documents 51 years of his use of the St. Vincent nuns as a subject in his work. The 100 page book sells for $50 and is available through the college or our gallery.

In 2008, Philip Eliasoph, Ph.D., Professor of Art History at Fairfield University, authored the book, "Robert Vickrey: The Magic of Realism", published by Hudson Hills Press, NY.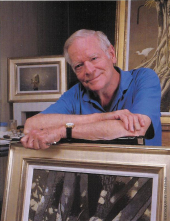 Robert Vickrey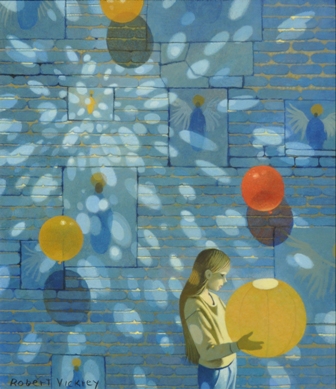 "Moonlight Patterns" by Robert Vickrey
Egg Tempera, 14"x12", 2010