Born at Coney Island, NY in 1934, Richard Segalman actually had his first exhibition in Naples in 1960. While easily the most popular artist in terms of number of sales, Segalman repeats this success story at his other galleries in New York City, Santa Fe, Woodstock (NY), and Kornbluth (NJ)

While an excellent draftsman, he usually prefers to suggest emotion through clothing and bodily expression, rather than pure facial expression. Equally adept at four different media - pastel, watercolor, monotype and oil - his watercolors were his beginnings and are still very special to him while the monotypes provide the excitement of discovery.

His subject locales range from rooftops of Manhattan, to the beaches of Coney Island or Naples, to the arid Santa Fe area , and the fields and forests of Woodstock, NY.

Represented in approximately thirty museum permanent collections including the Corcoran, Arkansas, Hirshhorn, Boston MFA, Minn. Inst., St. Louis, Butler Inst.,Smith College, Montclair, and others - Segalman is adding two to three more each year. He has been represented by the Harmon-Meek Gallery since 1982 and has had a solo exhibition every year since that date. His annual show is usually in February or March.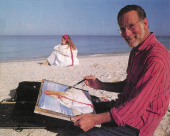 Richard Segalman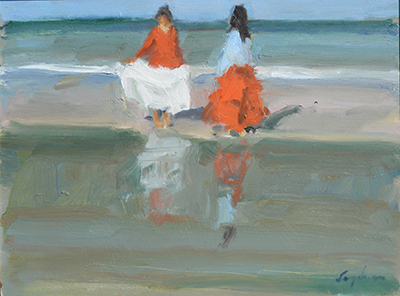 "Dance of Memory" by Richard Segalman
Pastel, 22"x30", 2010