William Entrekin was born in Rome, Georgia, a sleepy southern town in the northwest corner of the state. As the son of mill workers, his family would often move from mill town to mill town in search of work. With each move came a new school and a new environment for William and his brother Louis. While other boys were playing with childhood friends, William was often viewed as an outsider and found himself spending more and more time alone. These days of solitude marked the beginnings of a vibrant imagination and detailed attention to the beauty of his surroundings. William was often sick as child and would spend the hours of isolation drawing Ė placing on paper the images he saw so clearly in his mind. His pencil was the key that unlocked a door to a new world of artistic expression for this young boy.

A simple paint by numbers gift from William's aunt provided the transition from a black and white view of subjects to one bursting with color. Entrekin soon found the small sheets of paper from the paint by numbers set to be limiting and quickly transitioned to painting on pieces of discarded sheetrock. With irregular shapes and a rich texture, the sheetrock provided an unconventional canvas that allowed William's imagination to run free. He refers to this critically important stage of his artistic growth as the "sheetrock period".

William's chance encounter with an old artist named Richard Sturgis was the turning point in Entrekin's life. Sturgis happened to see some of William's paintings and asked "What the hell are using for paint?" After Entrekin explained the paint by number set, Sturgis introduced the young artist to oil paints. With ten dollars in his pocket, William got a ride to the art supply store in Atlanta where he was astonished to see the variety of oils, brushes and canvases. He stood in amazement at the potential works of art that were bottled up in the materials of the art store. Hundreds of colors that were just waiting for the right artist to introduce them to the canvas.

With his new supplies at home, Entrekin began to experiment with the new oil paints. The young boy was eager to share his work with Sturgis and worked diligently on his first paintings. After several weeks, William finally had the opportunity to show the elder artist his work. Sturgis was astonished at the progress he saw and immediately invited William to begin studying with him over the summer break. The young Entrekin watched and listened, carefully absorbing everything that the old man shared. Although Mr. Sturgis passed away that winter, he introduced a love for painting that lives on today in Entrekin.

In 1970 at the age of 24, Entrekin began using watercolor studies in advance of final work in oils. The use of watercolor led to egg temperas, a medium that the artist is particularly fond of. As the number of his paintings began to grow, Entrekin started developing a loyal group of collectors. Despite the public recognition of his works, William chose not to participate in large exhibits. Instead, he relied on a growing collector base and word of mouth for much of his early career.

The late seventies and early eighties saw a flurry of public recognition, including the 1984 award by the State of Georgia Governorís office, naming Entrekin as an Artist of Excellence. Over the next three years, he participated in two additional exhibits, including the Trust Company Bank Southern Masterpieces in 1986 and Columbia Museum of Art in 1987. After the Columbia, South Carolina exhibit, Entrekin would go almost 20 years without a public showing.

Sparked by a 2006 request to participate in a gallery exhibit in Atlanta, William rediscovered the passion he had for the art he discovered in his childhood. Over the next several years, Entrekin unleashed decades of pent up vision onto the canvas and created some of his most powerful works. He allowed nothing to hold him back and tackled projects that tested his physical endurance and artistic vision. Entrekin describes his perspective when looking at painting as trying to "imagine myself inside it and I imagine myself breathing in it." He continues by saying the "When I can feel the crispness of the air, smell the trees and woods around me, then I know that it's right."

Entrekin seems to follow no set style, nor does he set limits with his watercolors. He seems to spar with medium and paper to express the deep feeling that he has for each subject. When one views his works, it becomes clear that the people and places he paints represent the real world around him with subjects that are very close to his heart. Looking deeply into the artistís work leaves one with the sense that you know the subject and feel their emotion or can feel the stillness in the air. Each painting invites you on a journey that started in a small Georgia town and ends only when you draw your eyes away from William Entrekin's work.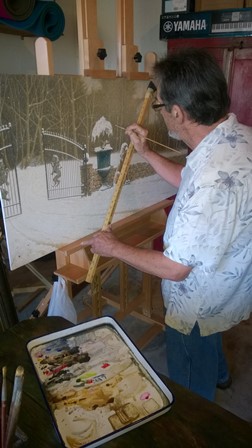 William Entrekin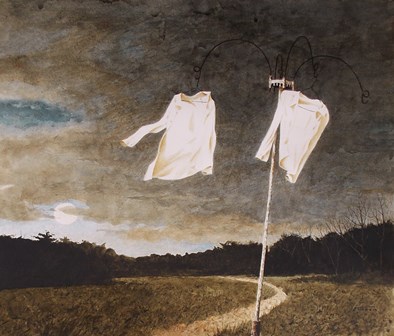 "ghost" by William Entrekin
Egg Tempera, 14 1/2" x 17", 2011