Dear Friends,

For years in late April or early May folks in the little sleepy fishing town of Naples would see "Gone Fishing" signs in store windows. After the "snowbirds" and vacationers left for the season, the locals would close up shop and have some fun before the hurricane season started. Today the town and surrounding areas have grown and the season has lengthened and but for a handful of mom-and-pop, long established businesses, many keep their doors open year-round now.

We conclude the 52nd season exhibition schedule at the Harmon-Meek Gallery with a group show built around the theme of fish and fishing as a subject in American Art. Works in the show include new pieces by Don Nice and works pulled out of estates' storage and artists' studios including: Adolph Dehn, Balcomb Greene, Herman Maril, Lorrie Goulet, Babette Bloch, Eliot O'Hara, Stephen Scott Young, Jessica Daryl Winer and Ellie Barnet.

While Harmon-Meek Gallery will be open by appointment only following this exhibition until November 1st. Our new location, Harmon-Meek|modern will be open through the end of May and will be open Thursday – Saturday during the summer.

click here to view works from this exhibition.

We also offer private showings of a wide selection of works by the artists we represent. We provide private art consultation and can bring works to your home or office within Southwest Florida. During the season we show new exhibitions regularly starting in November and running through April. Please contact us for more information.
Warm regards,
Kristine Meek
Owner-Director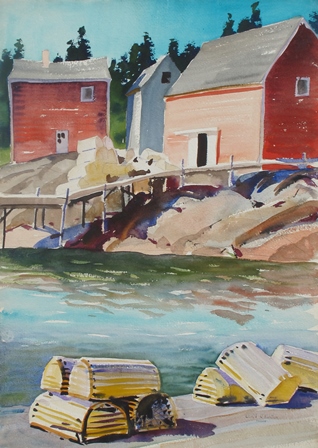 "Matinicus Maine" by Eliot O'Hara
watercolor, 22" x 15", 1931


Web Exhibition