Dear Friends,

Our current exhibition is a Retrospective for Laura Shechter. This is the first solo exhibition for Shechter in Naples and a retrospective spanning the most of her 50+ year career of the still life painter, including new works from her Brooklyn studio. Shechter considers herself a second generation contemporary realist-- the first generation includes painters such as Philip Pearlstein and Alex Katz. She studied at Brooklyn College in the 60's with Ad Reinhardt and absorbed his minimalist tendencies. "I paint both directly and indirectly--depending on the surface I am describing. For instance, look at this wooden table. I can't just get out brown paint and put in on the canvas and convey the surface of the wood. What you sense on this table is wood viewed through layers of stain and varnish. So, I paint it "indirectly" layering the paint. You can't convey the visual experience of a wall as seen through a colored glass object using just direct painting--it has to be translucent and transparent. So I paint both ways. The things in my paintings elicit surprising responses in people. People respond both to the painting and to their attachment and memories of some of the objects I've painted. One museum curator burst into tears when she saw some images from her childhood in my paintings. I try to give the same meticulous care in depicting the objects that the people who made them gave to them. I honor their craft."

The exhibition will run through March 4 with hours of 10 am to 5 pm, Monday through Friday at 599 Ninth Street North in Naples.

We also offer private showings of a wide selection of works by the artists we represent. We provide private art consultation and can bring works to your home or office within Southwest Florida. During the season we show new exhibitions regularly starting in November and running through April. Please contact us for more information.
Warm regards,
Kristine Meek
Owner-Director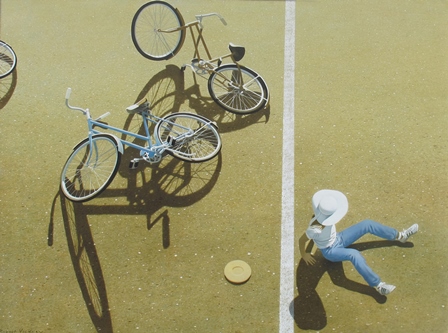 "Composition in Green" by Laura Shechter, oil on canvas, 34" x 35", 1992