Dear Friends,

Our second exhibition for the season is a group exhibition featuring paintings depicting scenes from around the world, all painted in the watercolor medium. The exhibition features a mini exhibition of watercolor works by artist Timothy Clark.

Many artists paint in watercolor and many artists travel the world looking for inspiration for their work and find that inspiration in the landscape and people of places far away. Other times they find their inspiration closer to their home. In this group exhibition we explore the world, both near and far, with works created as long ago as 85 years ago and as recently as this summer. Aside from the artists illustrated in this folder we also will have on display watercolors by John Baeder, David Coolidge, and Stephen Scott Young.

While we may imagine artists sitting or standing at their easels outside, before a beautiful vista or dramatic scene, the fact is most of the work happens back at the studio. Eliot O'Hara, the author of six books on the subject of watercolor painting explains the advantage of painting back in the studio. "The memory shifts out the nonessential details and retains the effects that impressed one most. There is less temptation to copy nature and more chance to present one's opinions, feelings, ideas, and sense of arrangement. Watercolor painting, therefore, not only offers many advantages in sheer convenience and workability, but is the best medium for taking quick notes in the field. Furthermore, a watercolor - or an oil - from memory may sometimes surpass in effectiveness one painted directly before the subject." Eliot O'Hara, A.N.A. Watercolor at Large 1946 Van Rees Press, New York.

Our special featured artist within the larger group exhibition is California/New York/Maine artist Timothy Clark. In his own words: "Since the age of 16, the focus of my life has been art. I was fortunate to receive training in both traditional and modern concepts, giving me the luxury to make choices regarding the direction of my art. Abstract Expressionism was heavily sold at the art schools I attended in the late '60s and early '70s. We were also told that photography had taken the place of painting in figurative art. But I believed then as I believe now that there is a place for emotional and aesthetic figurative painting in today's world. My paintings document how I choose to design and see that world." Timothy J. Clark 2008 Pomegranate, San Francisco.

"The World by Watercolor" exhibition runs November 23 - December 5 Monday-Friday 10:00 AM - 5:00 PM. Please click here to view select works by Timothy Clark from this show online.

We also offer private showings of a wide selection of works by the artists we represent. We provide private art consultation and can bring works to your home or office within Southwest Florida. During the season we show new exhibitions regularly starting in November and running through April. Please contact us for more information.
Warm regards,
Kristine Meek
Owner-Director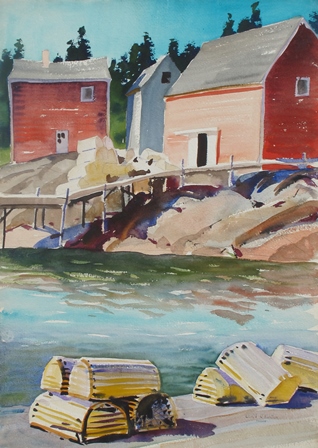 "Thai Summer Place" by Timothy Clark
watercolor, 30" x 22", 2014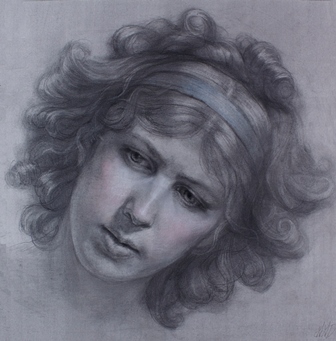 "The Tourist" by Jessica Daryl Winer
watercolor, 36" x 24", 1992

Timothy Clark Web Exhibition