Born in New York in 1952, Tobi Kahn's art is a metamorphoses of color, shape and texture. He has had scores of solo exhibitions and is in more than thirty public collections. He was selected as a "millenium artist" by the Albright-Knox Art Museum in Buffalo and was the recipients of the "Jewish Cultural Achievement Awards for the Visual Arts" in 2004. He usually has two or three travelling museum shows circulating across the country. He has also designed numerous important holocaust memorials around the country. Two important books about his work are currently available "Avoda, Objects of the Spirit" and "The Art of Tobi Kahn".

In May 2003, an exhibition of his Sky and Water paintings opened at the Neuberger Museum of Art in Purchase, New York. The catalogue includes essays by Dede Young, who curated the exhibition, and Donald Kuspit. An exhibition of selected paintings from this show traveled as Reflections: Tobi Kahn to the Brauer Museum of Art and two additional museums in 2004. The catalogue included an essay by David Morgan. Kahn's solo exhibition, Works from the Cape, opened in July 2003 at the Cape Museum of Art in Dennis, MA.

In 2004, Paradisus, a solo exhibition of Kahn's paintings of flowers, curated by Mark White, opened at the gallery of Oklahoma State University. The show then traveled to the Century Club in New York.

In 2008, Kahn was commissioned to create the art and ritual objects for the sanctuary of Congregation Emanu-El B'ne Jeshurun, in Milwaukee, Wisconsin. Opened in Fall 2009, Kahn's work consists of 8 wall-scale paintings and the sanctuary's ceremonial art, including the eternal light, mezuzah, and panels for the ark doors.

In October, 2009, "Tobi Kahn: Sacred Spaces for the 21st Century", a solo traveling exhibition of Kahn's ceremonial and liturgical art, opened at MOBIA in New York City. The book: Tobi Kahn, Sacred Spaces for the 21st Century, edited by Ena Giurescu Heller and published by the Museum of Biblical Art in New York in association with D Giles Limited, London accompanied the exhibition.

Kahn's acrylic paintings resemble those of no other artist. The precision in which they are created with multiple layers of gesso and paint immediately stand out in any museum or gallery group show. This signature style is extremely captivating and even in a relatively conservative area such as southwest Florida, his paintings are of great interest to visitors and collectors alike. While not always intentional, the paintings often have a basis in nature; whether as landscapes, flowers, aerial views of Earth, or microscopic forms. His titles do not give clue to the subject, since they are made up of combinations of consonants and vowels, and thus allow the viewer freedom to observe without bias.



Tobi Kahn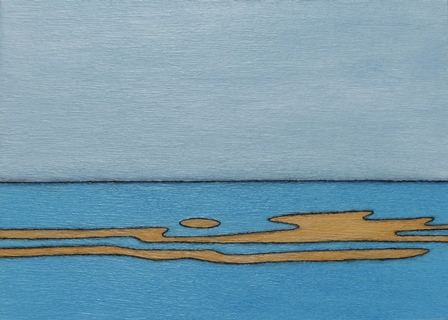 "YAHMA" by Tobi Kahn
acrylic on wood, 20"x28", 2013