Anita Huffington's history includes a long period in New York City starting in the late fifties when she came to study dance with Martha Graham and Merce Cunningham. She became acquainted with a circle of artists of the New York School, such as Kline and de Kooning, as well as a diverse and individualistic group of painters, sculptors, musicians, and poets in this vital idealistic period. These experiences and her later choice to live in the woods of the Arkansas Ozarks sowed the seeds for the sculpture she makes in stone, bronze, wood, and mixed media. Her work reflects both the world of art and the spirit of her life in the woods.

Huffington has exhibited her work continually since the mid-1970's in various galleries. Her work has been represented in diverse private and public collections and numerous exhibitions including the Morris Museum of Art and the Columbus Museum in Georgia, the Samuel P. Harn Museum of Art and the Cummer Museum in Florida, the Mississippi Museum of Art, the Arkansas Art Center, the Karla Scherer Foundation in Michigan, the Crystal Bridges Museum in Arkansas, and the Metropolitan Museum of Art in New York.

A monograph with superb photographs by David Finn was published in 2007. She has been awarded the Governor's Individual Artist Award (2005), the Jimmy Ernst Award in Art (the Academy of Arts and Letters, New York), a La Napoule Art Foundation Residency (La Napoule, France), and an Arkansas Arts Council fellowship recognizing artistic accomplishment.

Huffington does direct carving in stone and makes bronzes using the stone as part of the process. Her work is frequently based on ancient Greek marbles and myths, or relate to the primal forces of nature.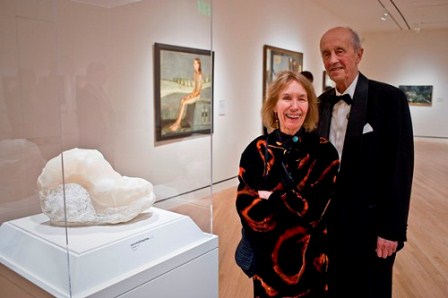 Anita Huffington and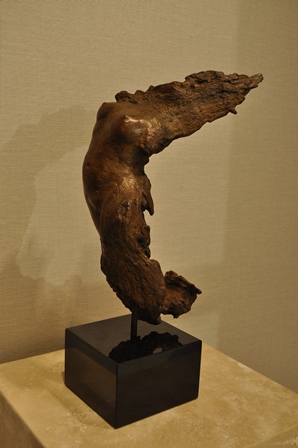 "Devata" by Anita Huffington
Bronze, ed. 5/9, 13"x5"x8", 2007