Born in Millville, NY, Greene didn't plan on becoming at artist until he met and married the sculptor Gertrude Glass. He was influenced heavily by Piet Mondrian's work while in Paris in 1931 and soon embarked on painting in a geometric abstract style throughout the decade. Very few of his works on Masonite or canvas survived a studio fire in New York in 1941.

He was the first chairman of American Abstract Artists in 1935 and led the fight for acceptance of American abstract art along with his friends and fellow artists Byron Browne and Ibram Lassaw. Leaving New York City for a teaching position at Carnegie in Pittsburgh in 1942, the figure started to slowly evolve in his art through the decade of the 1940's. He built his eventual home with the help of artists overlooking a 300ft cliff at Montauk Point, Long Island.

In 1951, he began to exclusively use of the figure, although the works were quite abstracted at first. He was included in the MOMA's "New Image of Man" show in 1959 and a Whitney Retrospective in 1961. Robert Beverly Hale's book about his career came out in 1976.

Balcomb Greene is represented in over sixty major museum collections and has been represented by the Harmon-Meek Gallery since 1969.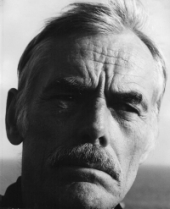 Balcomb Greene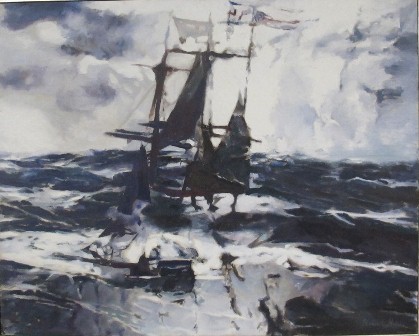 "Far From Land" by Balcomb Greene
Oil on Canvas, 1970