Born in Cologne, Germany the son of Max Ernst, Jimmy came to this country in 1938 via the efforts of Peggy Guggenheim. Becoming a U.S. citizen in 1952 he lived in New York and East Hampton, NY until the late 1970s when he built a winter studio in Nokomis, FL (south of Sarasota).

His autobiography A Not So Still Life was published just before his death in 1984. He was represented by the Harmon-Meek Gallery since 1980 and has had six solo exhibitions, including the last show during his life and the first memorial sales exhibition.

His oils give the appearance of web-like designs with dozens of layers of paint. He is also noted for white on white and black on black paintings. More than eighty museums have his work in their permanent collections in this country and Europe.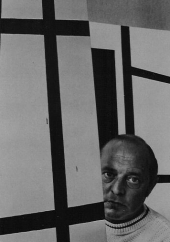 Jimmy Ernst

Mostly White by Jimmy Ernst
Oil on Canvas, 18"x24", 1971