Known for his expressive interiors, urban landscapes, portraits and figures, Timothy J. Clark's watercolors, oils and drawings are in more than twenty museum collections, including the permanent collections at the Smithsonian/National Portrait Gallery in Washington D.C, the Butler Institute of American Art in Youngstown, Ohio, the City Museum of New York, the Library of Congress Works on Paper, and Maine's Farnsworth Art Museum. His work has been shown in solo and group exhibitions from Hawaii to Berlin to Istanbul's Topkapi Museum.

Clark's work was featured in our November/December 2014 exhibit, The World by Watercolor. The late artist Susan Shatter noted that "the success of Clark's art is rooted in his sensibilities and curiosity as a person. His extensive travel across continents and hemispheres results in paintings, particularly watercolors, that reflect a wide variety of cultures. His love of language encourages people to open up and show who they are. This becomes part of the inspiration for his paintings which document our times and our shared humanity".

In the spring and summer of 2015, Clark's paintings were celebrated in a solo exhibition, Timothy J. Clark: In the Presence of Sacred Light, at the Loyola university Museum of Art (LUMA) in Chicago.

A solo exhibition of Clark's watercolors, Timothy J. Clark, opened at Southern California's Laguna Art Museum November 4, 2012, and was extended due to popular demand through February 17, 2013. Richard Chang, the Orange County Register's art critic, wrote of this exhibition: "I admire Clark's achievements and skills...he's a master draftsman and very skilled painter." Museum Executive Director Malcolm Warner has written, "Timothy J. Clark stands among the American masters of watercolor, past and present. Along with an uncanny skill at his craft, he has a keen eye for a subject and a sure power of expression. There is no more persuasive argument for watercolor as an art form than a Timothy J. Clark exhibition".

Curator and art historian Gene Cooper wrote of the artist's work for his 2011 solo exhibition at the Nevada Museum of Art: "Like Rembrandt, Clark's dramatic light penetrates the rich darkness of the interior core evoking a sense of mysterious presence." Art historian Lisa E. Farrington, Ph. D., in the 2008 book, Timothy J. Clark, speaks of the artist's paintings as "diffidently profound documents of human existence," and she notes his "almost uncanny ability to infuse rudimentary and inert object...with something akin to a human soul." Fine Art Connoisseur magazine has called Timothy J. Clark "a living master".

Clark is a faculty member at the Art Students League in New York and lectured for several years at Yale University's Graduate School of Architecture's Continuity and Change Program in Rome. He maintains studios in Capistrano Beach, California, New York City, and West Bath, Maine.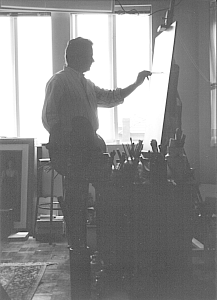 Timothy Clark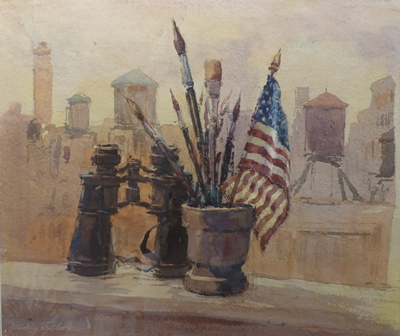 "An American View" by Timothy J. Clark
Watercolor, 15" x 18", 2012