Born in Yonkers, New York, Byron Browne trained initially as an academic artist who won numerous awards at the National Academy at an early age including the prestigious Third Hallgarten Prize for a still-life composition. In 1929, he abruptly decided to devote himself to abstract art. Loosely influenced by Picasso and other European abstractionists, Browne created many of his finest works during the 1930s. Very few of his oils are available today from his pre-World War II period due to successful sales during his lifetime and after.

At the time, it was difficult to sell any art as the Great Depression presented the Browne with obvious hurdles. If that were not enough to overcome, most American collectors and museums were interested in the American Regionalists (such as Grant Wood, Thomas Hart Benton, Reginald Marsh, and gallery artists: Aaron Bohrod, Adolf Dehn and Clarence Carter) and Art Deco artists like Maxfield Parrish. Any parties remotely interested in abstraction were enthralled with the Europeans (such as Braque, Kandinsky, Miro, and Picasso). America's previous attempt at introducing abstraction came during WWI when Alfred Steiglitz founded a gallery devoted to a select group of America's first abstractionists: Georgia O'Keeffe, John Marin, and an artist this gallery represented from 1968 until his death in 1972, Stanton MacDonald-Wright.

By the war years his art had clearly evolved into an easily recognizable style and was shown annually by several prominent New York galleries. His "Crustacean Series" in the late 1940s is still one of the most highly sought periods of his work. Foster Harmon was introduced to Browne's work and in 1971 the gallery was given the privilege of hosting Browne's "Decade Memorial Exhibition" Browne decided in 1929 to paint abstractly. Perhaps his greatest influence was Picasso, but in general all the cubists influenced him to some degree. He joined with Balcomb Greene and his wife Rosalind Bengelsdorf to form American Abstract Artists in 1935.

My the mid 1950's he felt abandoned by the new abstract artists and created more romantic imagery until his death in 1961. His decade memorial show was held at the Harmon Gallery.

Browne is represented in well over eighty major art museum permanent collections.
The Harmon-Meek Gallery has works on paper and oils on canvas in stock at all times.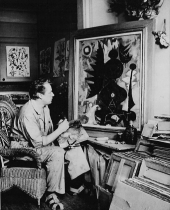 Byron Browne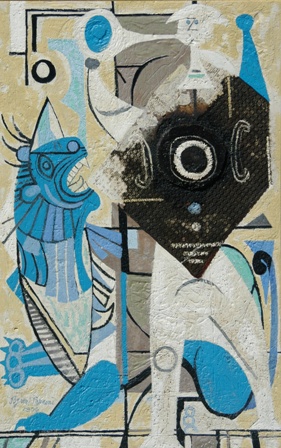 Blue Lion by Byron Browne
Oil on Panel, 46"x29", 1936